Win a best-selling Autumn outfit from Abacus
---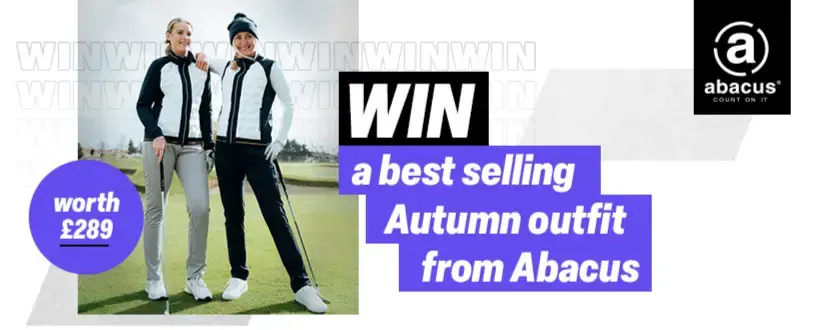 The Importance of layering
We're approaching the time of the year where a chill in the air starts to become more and more noticeable with each passing day. So, Abacus have offered us some fantastic tips on how to build your outfit to protect you from the elements this Autumn.
When considering your initial base layer, you'll need an article of clothing that's skin-tight while being breathable and has moisture-wicking properties. This way you'll retain your body heat and will avoid any sweaty sensations. A long-sleeved base layer is excellent for the colder seasons.
The second warming layer should ideally be easy to put on and take off for when you encounter changeable temperatures. A fleece or vest that warms the chest would be a superb choice. You'll have a cosy torso while still having your arms free, keeping your golf swing unrestricted.
Your outerwear should protect you from the wind and rain. A good rain jacket should be stretchy and comfortable while being waterproof, windproof, and easy to store away in your golf bag for when the sun comes out halfway through a wet round.
Abacus have a whole range of stylish autumnal golf apparel that we know you'll love. Why not stock up ahead of the season?
Outfit Competition
Don't miss out on our amazing prize draw:
You can be in with a chance of winning a fantastic outfit from Abacus worth £289!
The winning outfit includes:
The Cypress Longsleeve - A delightful base layer that perfectly retains your body heat.
The Grove Hybrid Vest - A comfortable and warming full-zipped white and navy padded vest.
The Druids Windvent Trouser - Light and stretchy, these trousers reduce fatigue to keep you on top of your game all round long.
It's completely FREE to enter our draw, so why not throw your name in the ring?
All you have to do is enter your details below and you're in with a chance of winning! Good Luck!
---